The scouts follow the principal of "leave no trace" when camping and during outdoor activities. No reason that we all shouldn't. It simply means leaving your campsite better than you found it. That way everyone can enjoy it as much as you did. Nothing is more disheartening than finding a campsite or trail with trash left behind. However, leaving no trace is much more than just picking up your trash. Here is a checklist to keep in mind to go over. If you can think of something I didn't mention, please leave a comment! Always looking for new ideas!
Leave No Trace Tips
Plan ahead before you leave – Consider what you will do with the trash after eating when planning meals. Also, take that new camping equipment out of the packaging and remove all the tags before you leave for less trash to keep up with.
Camp on durable surfaces – Try to not trample vegetation or have to clear and area of living plants in order to setup your campsite. Instead, pick a clear area that will look like you found it when you leave.
Garbage in, Garbage out – Whatever you pack in you pack out with you right down to toilet paper. You can also burn the TP if you have a fire. But keep all trash together and be sure you compact it as much as possible when stowing it away to make it easy to pack up.
When opening food or other packaging, do not tear the top completely off. Leave it attached. This makes it easier to keep trash together.
Protect the waterways by carrying water 200 feet away from the source to wash dishes with biodegradable soap. Also, never "do your business" within 200 feet of a waterway. Always stay at least that far away to avoid contamination.
Fires are awesome and essential to camping. But this does not have to be the burning man festival. Keep the fire to just what you need and only use dead and fallen firewood. Avoid huge logs, if you can't burn it up, don't put it on the fire.
Leave what you find – Leave the rocks, plants, animals and firewood where you found it. Do not take it with you. Likewise, it is not a good idea to take firewood from home into distant campsites. This can spread damaging beetles and other diseases to native trees.
Do not tie or nail anything to trees or vegetation. Leave all living things as you found them. If the kids are hitting trees with sticks or pulling off bark, tenderly explain that damaging tree bark will make them susceptable to disease. Also do not dig ditches to route water or for any other reason. Choose a dry tent location before you setup.
When hiking, always stay on the trail. If you are blazing a new trail and have a group, be sure to spread out and not hike in a single file. This will minimize the impact on the ecology.
When you need to do your business and latrines are not available, dig a four to six inch deep hole and bury it. Place a rock on top to help warn others not to dig there.
Don't disturb wildlife – Observe them from a distance. If an animal has to change its normal activities, you are too close.
Respect fellow campers – Keep noise down, don't camp in large wild groups, ensure you give other campers enough distance for privacy. Also, when hiking, make sure all gates are left as you found them.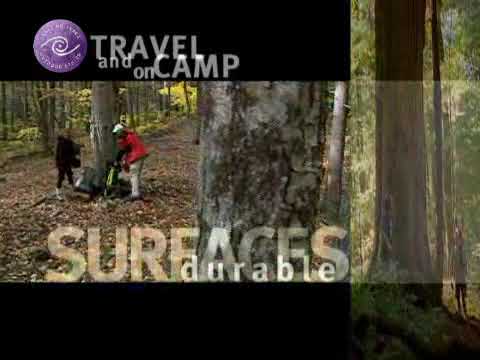 Visit http://www.lnt.org/ for more information
I hope this helps you enjoy your camping experience more. One thing is for sure, the folks camping after you will certainly appreciate your efforts. And if the people who were there before you left a huge mess, make sure you leave the campsite better than you found it. All it takes for evil to prevail is for the good man to do nothing.